Young Netminder
Joshua Maxwell: NHL Goalie, In Progress.
Josh Maxwell, is my cousin who plays the Goalie position. I have had the chance to see him play a couple of times, and he is pretty good. His helmet design in prett neat. He really knows his stuff. One day I am sure that he will be playing for a NHL team.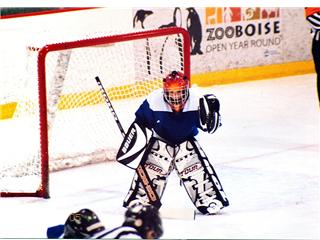 Going Down to Make A Save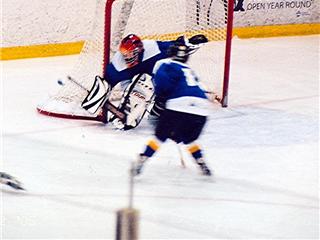 In Position and Ready to Go.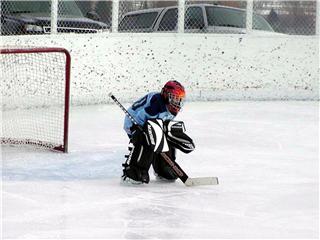 Josh may look tiny, but man can he make some great saves. When they happen to come his way.
Josh and Johnathan Shockey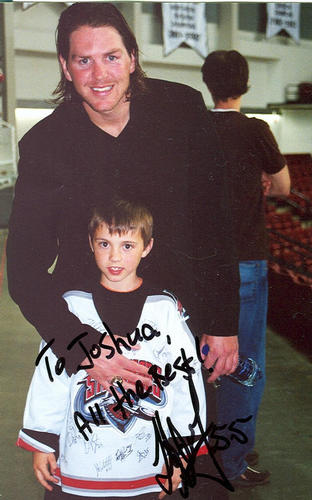 Josh and ECHL hockey player Johnathan Shockey at Qwest Arena. Josh had the chance to get the picture signed to. Which is pretty neat
Two Great Goalies Hanging Out'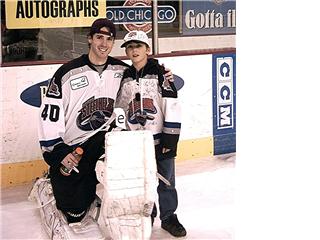 Don't they look cute? Josh is posing for a picture with Idaho Steelheads goalie Steve Silverthorn. Steve was one of two goaltenders for the 2005-2006 season. Josh often hangs around with the players down at Qwest Arena in Boise.
Jeez.
Josh ready to make a great save, but the other team completley missed the neat. As Josh looks to where the puck is going next the other team just stands there and lets the puck roll.
All Suited Up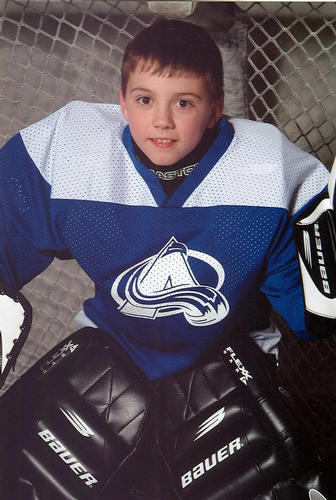 This was taken during Josh's team picture day, Josh was playing for "team Alvalanche" at the time of the picture. Josh is #12
Josh's Games & Results
Next Game: Thursday, June 15, 2006 7:05 p.m. Idaho Ice World
Win 12-5
Next Game: Saturday, June 17, 2006 IIW *1st Game 8:00a.m. *2nd Game 11:30a.m.
1st Game: Lose N/A
2nd Game Win 17-6
Next Game: Monday June 19, 2006 IIW 7p.m.
Win 18-6
Next Game: Monday June 26, 2006 7:05 p.m. IIW
Win 22-3
Next Game: Monday July 10 2006 7:05 p.m.
Win: Score N/A
Next Game: Saturday August 5th 2006 (Hockey Pileup) 8:00 a.m., 11:40 a.m., & 3:30 p.m.
Loss (8:00 a.m. game) * Other two games score is not known.
Next game: Monday, August 14, 2006 7:05 p.m.